Hi, I'm Susie
Do you dream of being a coach, consultant or speaker?
You're smart and driven. You're an expert. Well, maybe that's a little hard for you to claim…but you know darn well that you've become skilled through your work and life experience.
But your current career or lifestyle isn't giving you the kind of fulfillment and income that you want in life….You know you're made for more!
You want to have the ability to take your business with you wherever you go.
You want to do something that you're truly passionate about.
And you want to make money on your own terms and, quite frankly, you want to earn more than enough money.
You're tired of thinking small! You're tired of feeling boxed in. You want your own business. It's time to fly solo, baby!
"Susie helped me create my dream business! Within the first four weeks of working together I up-sold all my current clients and I gained 3 new clients! I earned over $10,000 in just 90 days."
Don't actually have a profitable business yet?
I know the steps to actually make it happen seem more like a mess of scattered jigsaw pieces that you can't quite seem to arrange…
Starting is so daunting because you don't see the stepping stones.
You don't know where to put one foot in front of the other and you're unsure of the future…you want to provide for yourself and your family but you're fearful at the same time.
There is no room for error.
You have no time to waste.
Your money must be used as an investment.
Sometimes the pressure and fear can hold you back from moving forward. Trust me, I know the feeling.
I've felt trapped in traditional career roles, I've had the whisper inside that urged me to take a leap. I've felt the financial fear of not being able to pay my mortgage…
And then… I finally took ownership of my expertise. I committed to building a life and a business that I desired. I used my skills and expertise to take step by step action each day and then do you know what?
I was able to leave my stable job when my personal blog exploded reaching literally millions of people and I finally had the courage to offer my services on my own terms!
I was able to find my own freedom.
So I know you can do the same!
You don't have to do it alone.
Would it be a dream to be held accountable, to have someone hold your hand and show you how to make the leap?
Would you love to have a coach who's been in your shoes and can light the way for your dream business?
Look, I know you can sell your services because you are gifted. If you were not, you wouldn't still be here reading this page.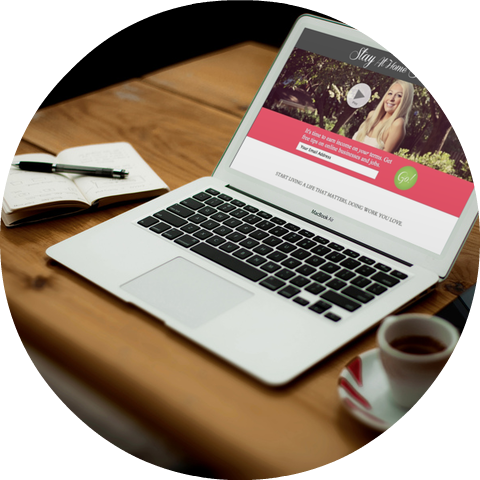 Together we can:
Build the foundational pieces of your business

Plan and package your services

Develop your website and image

Discover your brand, target market and messaging

Set up sales processes so you have leads and sales

Create long term marketing and lead generation plans so you have a stable income
I'll show you the exact tactics that I used myself so you can have the results you want.
By the way, these are the same tactics that have helped my clients reach income goals upwards of $5,000/month!
Believe me when I say I don't play around! I am the queen of productivity and I can prove it:
I was graduated with a bachelor degree at the age of 20 before I could legally have a beer

I held management roles in the corporate world by the age of 23

I had two kids, a successful business and a white picket fence by the age of 26

My personal blog reached 4.6 Million web visitors with no advertising
You might be impressed by my so-called accomplishments in life…or maybe you're not. That's okay. What I do assume, is that we can both agree on this:
Time is our biggest asset.
Time is a gift that we won't get back. We need to spend it wisely, by choosing to work smarter rather than harder.
I'm not saying that you won't be able to do this on your own. I'm just offering to show you how to avoid the pitfalls and save yourself time, effort and tears.
But, wait just a second…
I should warn you, I only work with committed and driven people.
If you're dream is to make a couple bucks on eBay and etsy by selling hair bows, I'm not your gal.
I don't work with people who are lazy or just looking for a $10/hour online job. I fear people who think clipping coupons or filling out surveys is a way to get ahead in life.
I'm all about working with people who are ready to do the upfront work that is needed to create a thriving, virtual business around what they simply love doing!
I work with clients who are talented, gifted and people who are fighters!
They fight for their dreams and when they get knocked down, they pick themselves up again…and I make sure I'm with them every step of the way. Because I'm a fighter, too!
In fact, I'm a bit of an ambitious bossypants too. So, if you can handle my style and grit, we just might be a match made in heaven.
If you're the person I've just described then there is a way for you to move forward. All you have to do is take it.
It's hard to let go of that fear isn't it? Well in reality, you don't have to do a single thing.
Let's just think for a moment what would happen if you decided not to make a change. Here I'll paint the picture for you:
You stay in a stable job until you're about 55 ish years old. The best 30 years of your life will be spent driving to work, sitting in traffic with millions of other people who hate their jobs. Then you'll work, eat, sleep, repeat.
You'll sit at a Starbucks one day and wonder what would it would have been like if you had actually had the courage to start your own dream business.
It's not a horrendous life. It's true.
But is 'not horrendous' really what you're striving for? Be honest.
Nobody wants to just get by…
"Once I applied the things I learned from Susie and her programs, leads started rolling in! I literally had six leads for paying work within one day!
It felt amazing, my business is growing and I owe so much to Susie for her advice and training."
You have a choice today. And really everyday! You can choose a 'not terrible' life or…
You can choose a life where you're able to wake up at your natural waking time, with no blaring alarm clock.
You will plan your day with client work, creative projects, speaking engagements and more!
You can enjoy no constrictions, no micro management… take walks, a yoga class, or just take your beautiful kids out for ice cream whenever you'd like.
You navigate your day with complete control.
What does that look like for you? Close your eyes and imagine, the vacations, the family time, the freedom.
Now think. Which life will you choose? Before you make your decision, can you guess which button this lady hit?